How do I reset my password in UH Go?
If you need to reset your CougarNet password while in the UH Go mobile app, tap the IT Support icon at the bottom of the home screen:





Scroll down the IT Support Center page to the heading that reads, "Reset your CougarNet Password" and tap the button underneath that heading. If you are not logged in, the button reads, "Login to change your CougarNet Password" (as with the example below); if you are logged in already, the button reads, "Change your CougarNet password":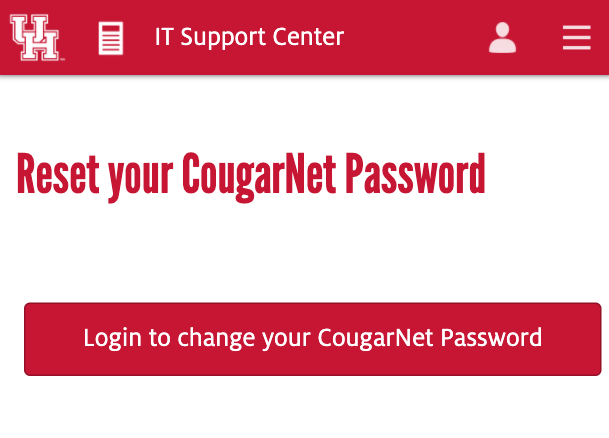 Whether you are logged in or not, this button will take you to the CougarNet Password Wizard to reset your password.
You can also access the password reset screen by tapping the user profile icon (the "head and shoulders") in the upper right hand corner, tapping the "Settings" link, and then tapping the link that reads, "Change your CougarNet Password":


Created: Nov 18, 2018 - 4:56pm Updated: Jul 15, 2020 - 10:34am Author: UH Go Article: 2894
Was this article helpful?
Thank you for your feedback. Click Here to submit again.